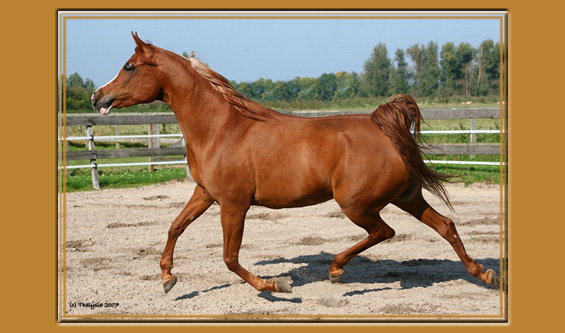 YA Mangara
16.06.1999 - 25.07.2008
YA Mangara has been very succesful in the showring: in 2000 she was class winner and Jr. champion mares in Beesd, the Netherlands, and in 2002 she became class winner at the international B-show in Wintzenheim, France.
Bred by Yaccaranda Arabians, Mangara has a lot of great Russian sires in her pedigree. She combined type, body and extreme movements.
Mangara truly was a jewel to enjoy each and every day. Not only because of her beautiful appearance and the wonderful foals she has presented us with, but she touched our souls by just being who she was - a very special horse indeed.
Aparan
Desant
Aswan
Natuma
Angelika
Mascat
Naturshitsa
Mangada
Dagestan
Prizrak
Mastika
Kormangal
Mangal
Korah